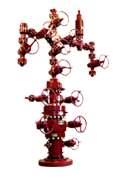 GENERAL DESCRIPTION API 6A
WELL HEADS
WENLEN offers a varied and full list of surface wellheads, including conventional heads, compart heads, operational time reduction systems, electro submersible pump heads (ESPs), progressive cavity pump equipment (PCP), independent wellheads, steam injection heads, formation water injection heads, high pressure and high temperature wellheads (HPHT), single and dual completion heads, shale oil and shale gas fracture heads, metal-to-metal sealing technology, and other kinds of wellheads custom made according to the client's needs. We provide measurements of up to 30" and pressures of up to 15,000 PSI.
VALVES AND CHRISTMAS TREES
WENLEN offers a full list of valves for oil and gas wells, measuring 2-1/16" up to 9", with pressures of 2,000 up to 15,000 PSI and all types of material according to API 6A, as well as other material for special services. Christmas trees are provided in different settings, comprised by individual or in-block valves. They can be provided with pneumatic or hydraulic surface security systems for single or dual completions and for artesian and artificial lift wells.
SURFACE SECURITY SYSTEMS
They are comprehensive control systems designed to close a well in irregular, abnormal or accidental conditions, thus protecting the power resources, the facilities and the environment. WENLEN equipment has been tested in the field for many years, and is capable of protecting the production lines of oil and gas artesian wells.
Wenlen S.A | Estrada 180 - Bella Vista Prov. de Bs.As Argentina | Tel. + 54 11 4666-0969 + 54 11 4666-0969 | All rights reserved |
Terms and Condition
|
Site Map
| Last Review: April 2017